With statement T-shirts and large signs in hand, John McGlone, 63, and Jesse Aaron, 23, self-described street preachers, made their presence known at Campbellsville University (CU) on Oct. 18-19.
During the few hours they spent each day on the public sidewalks and the grassy median of North Hoskins Avenue, they handed out information cards and verbally accosted students, faculty and any passersby – igniting broader concerns about free speech, safety and security on campus.
The demonstration at CU is not an isolated incident. They're part of a larger group called Pin Point Evangelism. The group sends the 'street preachers' across the country to public spaces, especially college campuses, hoping to elicit negative responses from those they confront, which they video and post online. They visited Western Kentucky University and the University of Kentucky earlier this semester.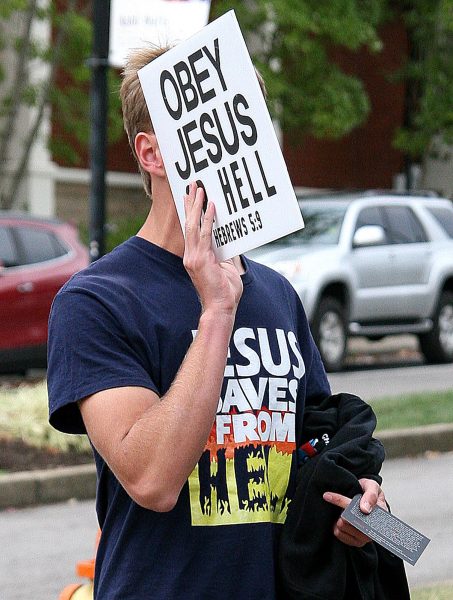 McGlone and Aaron consider themselves born-again Christians. Although their religious denomination isn't clear, Pin Point Evangelism's website and McGlone's personal website highlight their religious doctrine. They hold extremely conservative ideals, for example, that women aren't to be in leadership roles. They also hold archaic notions about science, including flat Earth and geo-centrism, the theory that planet Earth is at the center of the universe.
Throughout the protest and student-led counterprotest, McGlone and Aaron yelled insults at anyone they found offensive. Especially targeted were students of various minority statuses, including religion, race, gender and sexuality, all of whom were informed they were "going to burn in the lake of fire."
"I don't listen to women," McGlone yelled from the median at a student on the sidewalk. Aaron defended his partner's comments toward women. He said it was a general statement concerning how "godly women" are supposed to remain quiet in the church and listen to "godly men."
Student Ihsane Dmaoh practices the Islamic faith. She was confronted by the pair. They told her she would be condemned for her religious practices.
"I know that he doesn't know what he's talking about," she said.
According to student Gavin Barrows, he was told he was going to hell because of his disability. Barrows requires a wheelchair for mobility.
"I'm at a point in my life where I don't care, but if I was a lot less mature in God, that would've made me question everything," said Barrows.
Sophomore Essence Jones talked with Aaron. She had concerns about his views toward members of the LGBTQ community.
"Me and my sister were talking about what's the issue with gay people," she said. "Because I am a Christian, but I'm also gay. I know what my granny said, but she also said, 'Christians can still go to heaven if they're gay.' And he was just talking about how 'you're going to hell' and 'God's going to kill you for being gay.'"
Jones said Aaron was spitting on her during the altercation.
"I said, 'You're spitting on me,' and he said, 'I don't care you're going to hell for being gay," she said. "He had his hand in my face, he kept saying 'God's gonna kill you,' 'God's gonna kill you.'"
Jones spoke with a Campbellsville City Police Officer who was on the scene, but she didn't press charges.
Aaron didn't believe they were doing anything wrong and said the hateful way they were speaking to people was justified by the Bible.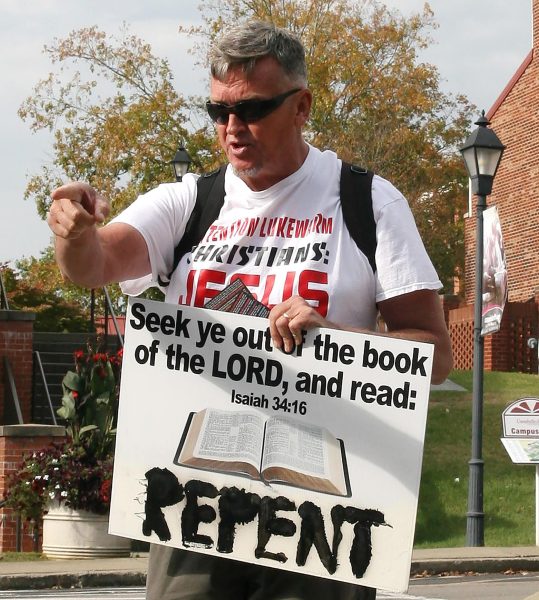 "Yeah, I mean, we are spewing hate," he said. "We're spewing a godly hatred toward sin. Jesus hated sin, He hates sin, He tells Christians to hate sin in Amos 5:15 and Hebrews 1:9."
He said everyone hates something and acknowledged that what they were doing was a form of hatred, but the hatred they expressed was a form of "loving your neighbor."
McGlone said it was obvious why they chose to come to CU.
"It's a pimple that needed to be burst," he said. "It's a spiritual pimple that has a lot of sin in it."
According to McGlone, he doesn't need permission to be on CU's campus.
"I'm a Christian, my permission comes from God," he said shortly before he and Aaron left on Oct. 19.
Because of the COVID-19 pandemic, it had been several years since the protestors had been on campus, so a large portion of the student body hadn't interacted with them before.
The first day of the protest was more tense than the second. A large group of students gathered on the sidewalk and the median, where many debated with the protestors.
Two students, Jaden Brown and Aaron Taylor, made their own signs and counterprotested in the median next to McGlone and Aaron. The signs read, "This is not what Christianity looks like," and "This is what a clown looks like."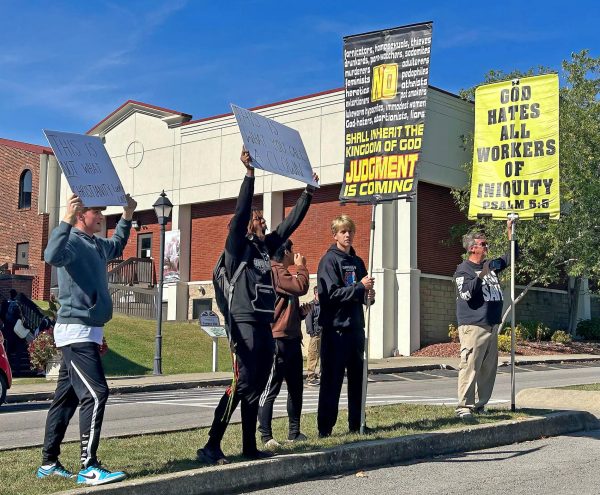 Taylor said he made a sign because he believed that the way the protestors acted would turn people away from Christianity, especially if any non-believers saw it.
"I'm not God. I don't have a reason to judge anyone else," he said.
Brown also found their behavior to be problematic.
"It's things like that that make it seem as if Christianity is a cult, and me being a Christian, I don't like for certain situations to seem worse than they are," he said.
He said people behaving in that way causes disdain for Christians around the world.
"Everything that Jesus did was love," Brown said. "He died for us because he loves us. He wasn't up there saying it felt good to die on a cross. He was getting his hands nailed. He loves us, that's why he did it."
Brown said he believes that even if there were elements of truth in what they said, such as sins condemned in the Bible, the approach they took turns people away from Christianity.
"It's about how you present things to people," he said. "If you go into a conversation and you're upset about something, it's about the tone and how you present yourself that sets off the rest of the conversation."
Brown and Taylor had concerns that some students reacted in the way the protestors wanted.
"If you're going to present Christianity and go against what they're saying, we can't be negative and stoop down to their level," Brown said.
Student Caitlin McMann went to the protest with a Bible in hand and began counter-preaching and reading to a large group of students.
"They are literally false shepherds," she said. "It saddens me because we have people here who don't believe, and if this is their first encounter with what they think Christians are like, how sad is that. It leads them in the wrong direction. This is why people hate Christians."
Campus security maintained a presence throughout the demonstrations, but because Aaron and McGlone were technically on public property, they couldn't remove them.
As tensions rose on Oct. 18, security ushered students off of the median and public sidewalk, telling everyone to leave.
When the head of campus security, Kyle Davis, was on the median getting students to leave, student Dalton Vogt yelled a derogatory remark directed toward campus police. Davis stopped pushing the crowd off the median to apprehend Vogt.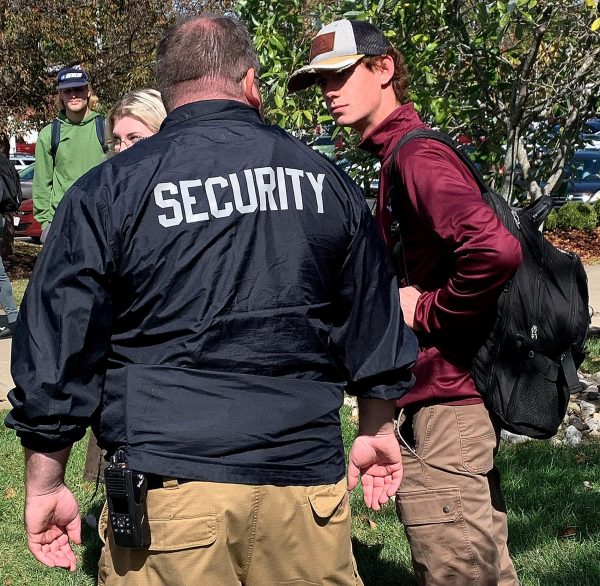 Vogt said he's currently on probation. He was cited for lewd misconduct and has been told he can either write a letter of apology or pay a fine.
He said it wasn't a proud moment, but he had an issue with campus security pushing students off public property while not being able to force the protestors to leave. He believes campus security officials violated students' rights.
On Oct. 19, campus security put barriers on the streets to prevent traffic from passing through the scene of the protest.
Members of The Campus Times staff have contacted Davis multiple times for comment for this story, but he has not yet provided an official "on the record" comment.
CU President Dr. Joseph Hopkins said the situation is a learning opportunity for the university to analyze how they responded so they can better handle similar situations in the future.
Hopkins said he understood the anger and emotion students, faculty and staff felt and that he appreciated the grace the students offered to the protestors compared to what would be a natural response.
"It is offensive, and it hurts, and it takes time to get over it," Hopkins said. "I believe the best response is to be truthful, to continue loving, to continue caring and show something authentic. I'm exceedingly proud to have a campus that's filled with students from so many different faiths and cultures and ethnicities. That's a point of pride. That's not something to sneer at or attack. We can be proud that this is a place where students from such a diverse kind of culture want to gather. So, we just have to go back out there and send that message again, but it does hurt. That's the sad reality. It's a wound."