Kaitlyn Withworth vividly remembers the day she was saved.
"I remember feeling an overwhelming sense of peace and joy afterwards because I knew I had just done the best thing I could ever do with my life," Withworth said.
It happened on a Sunday at church during the children's service. Her dad, who is a pastor, was talking about salvation and how people need God in their lives to fulfill their true purpose.
"In that moment, I really just came to understand how much Jesus loved me and could comprehend just how much it meant for him to die for us," Withworth said.
Withworth is a sophomore at Campbellsville University, and since she was a young girl, Jesus has been a fundamental part of her life.
"Jesus has radically transformed my life through showing me that I don't have to be perfect in order to be accepted and loved by him," she said.
During her first semester at college, Withworth experienced a moment when she felt really low for being away from her family and friends. This sense of loneliness and sadness made her relationship with God difficult.
"I began to drift away from God and hang out with people who weren't a good godly influence in my life," she said.
About halfway through that semester, she said God woke her up and she realized how much she was messing up.
"I just started to pray about it and ask God for the strength to overcome a lot of pain I was dealing with," Withworth said.
According to Withworth, God is now the light and guiding hand in her life.
"He is my firm foundation and rock," she said. "The thing I love the most about God is that He's always going to be there for me no matter what I go through. Sometimes it is hard, but God is with us, and He will forever be."
Withworth's favorite way to feel God's presence is through worship, but also just sitting and meditating on God's word makes her feel really close to him. Worship is, for her, a holy moment, where she can connect with God and talk to him about anything.
"I think it's important to have a relationship with God because he loved us enough to go and die on the cross so that we might be saved and get to go to heaven one day and live eternally with him," Withworth said. "My relationship with God has grown in this current season of my life because I've gotten a lot more comfortable in sharing my faith with others and have started getting into the word more often and taking time to listen for his voice and obeying it."
According to Withworth, her connection with God has been impacted by the community she has surrounded herself with. Two of her closest friends, Ellie Harned and Carlee Perry, have a special bond because of their love for God.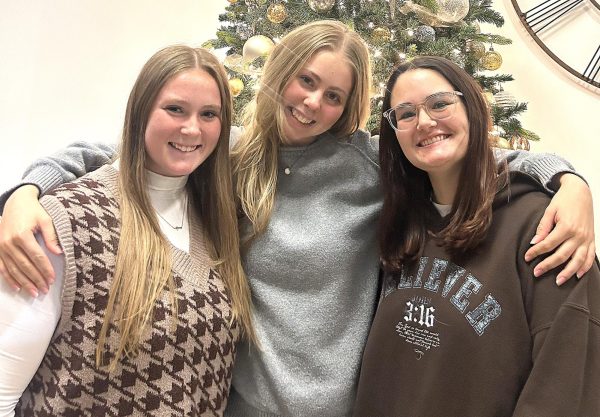 "Withworth is somebody that will pray for you at any second," Harned said. "She is always there for me in my ups and downs of life. About two months ago, I was really struggling and letting God take control over a certain aspect of my life. I remember that day, Katy came over to me and asked how she could be praying for me, and I explained to her my situation. She immediately started praying for me."
This is only one instance of the many times Withworth has showed Harned her passion for Christ and relationship with the Lord.
"Her heart for others really demonstrates her love for God," Harned said.
Perry said she and Withworth have shared many late-night conversations about God and lake Bible studies.
"One of the best memories with Katy that I have was the last night at the Bible study "His Words Not Mine" last semester," Perry said. "She prayed over all of us and when we were having trouble telling our biggest struggles. She was right there with us."
Trent Creason, CU campus minister, said Withworth's passion and love for Christ is unmistakable.
"She is a person that is clearly excited and committed to Christ," he said. "She lives out her faith in true tangible ways especially through service like serving at Monday Funday."
Withworth has been chosen to be one of the counselors in Campus Ministries.  She also serves on Campus Mission, and next semester she will be a leader of Monday Funday. Serving in these roles will help her continue to share her love for Jesus at CU.
"It literally breaks my heart when I see people struggling through life without Jesus because it makes such a huge difference having him there with you all the time to talk to when you are feeling down or lonely and being able to feel his love and knowing how much he cares about you," Withworth said. "God is so important to me, that I really can't imagine what it must be like to not have Jesus in my life."