Campbellsville University is once again participating in the Operation Christmas Child shoebox drive and the deadline to donate items is quickly approaching.
The OCC Shoebox Collection Week helps children in several ways. It provides children in need with essential items such as school supplies, hygiene products and toys, which they may not otherwise have access to.
These gifts can bring joy and improve their quality of life. Additionally, the act of receiving a shoebox filled with love and care shows them that they are valued and not forgotten especially during the holiday season.
The organization in charge of OCC, Samaritan's Purse, partners with local churches and organizations to provide ongoing support and resources for these children, addressing their long-term needs. The OCC Shoebox Collection Week plays a significant role in supporting children in need and making a positive impact on their lives.
Operation Christmas Child Collection week is Nov. 13-20. Items can be dropped off at Campbellsville University, 1870 Old Hodgenville Road Campbellsville, KY 42718.
If you're looking to donate items, suggested items include outfits, shoes, socks, stuffed animals and dolls. Gifts can also include accessories like hats or sunglasses.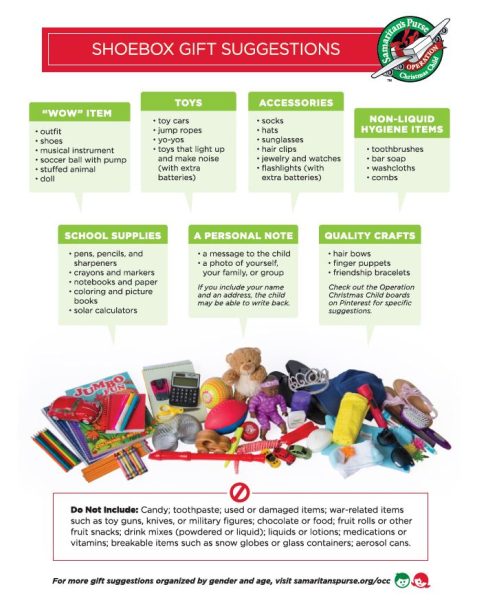 School supplies such as crayons, notebooks, pens/pencils and solar calculators are highly requested and useful for children.
And, in the holiday spirit, an uplifting personal note to a child, placed in the shoebox, is welcomed.
If you have plans to donate, do not include candy, toothpaste, used or damaged items, toy guns or lotion.
The hours to drop off items are as follows:
Nov. 13: 6 – 8 p.m.
Nov. 14: 6 – 8 p.m.
Nov. 15: 6 – 8 p.m.
Nov. 16: 6 – 8 p.m.
Nov 17: 11 a.m. – 1 p.m.
Nov. 18: 11 a.m. – 1 p.m.
Nov. 19: 1 – 3 p.m.
Nov. 20: 9 a.m. – 11 a.m.