In the heart of Campbellsville University, a group of creative students get together to express themselves through art. Students can take a break from the stress of being a college student. Campbellsville University's Art Club allows them to make their own on campus with their brushes and colors.
Eden Hale, a sophomore from Hawaii, is the current vice-president of Alpha Rho Tau and helps organize fun events for the art club. She became involved in the club last year, and enjoyed getting to spend time and create with so many artists on campus, including people without art majors.
"My motivation to run for vice-president really stemmed from a love of our art department and encouragement last year from our former president Jackson Chapman," Hale said.
This year, Hale has been heavily involved in running multiple workshops for fibers, clay and ceramics, along with an art trip to Lexington, food and movie nights. Hale said it's rewarding to see students come together and just celebrate creating.
"My advice for students interested in joining the art club, especially for those who may not be art majors, is just jump in and have fun," Hale said. "We're all learning together, and it'll easily become one of your favorite parts of CU."
Tori Christen is the assistant professor of art and design at CU, and serves facility representative for the student art group, Alpha Rho Tau. Christen said she believes peer groups, such as this, are so important. They are great opportunities to make social connections, acquire knowledge/skills, and, most importantly, relax and have fun.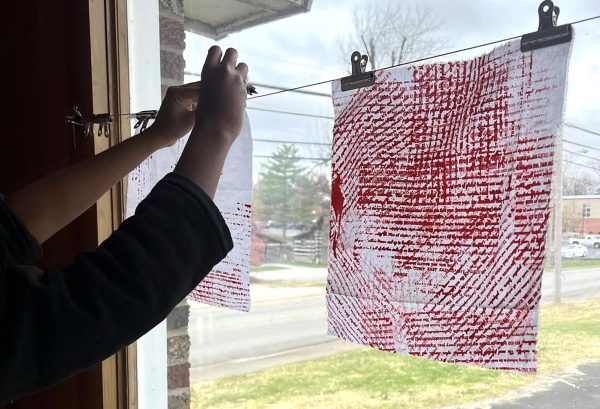 "Art club allows me to interact with the students in a relaxed out-of-class setting, and learn what they are most interested in learning and experiencing," Christen said. "Visual art includes countless different techniques and processes. We could never begin to touch on all of them in a four-year program. The art club allows us the opportunity to explore some of those processes not included in our curriculum. These newly acquired skills and knowledge can be utilized in their classroom and personal work now and in the future."
Christen said this is a great avenue for students to explore subject matter they really enjoy without the restrictions of a classroom assignment. Workshops focus on experimentation, creativity and play, without the stress of grades. Art club members are also given the opportunity to assist in leading workshops, assisting their art peers and non-art majors alike. A large portion of her personal artwork is in fiber/fabric. This semester she has been teaching a series of workshops on different fiber techniques. Sunday Funday Workshops are in conjunction with a project they started last semester. They were awarded the George Howell Earth Stewardship Award for a proposed repurposed fabric project.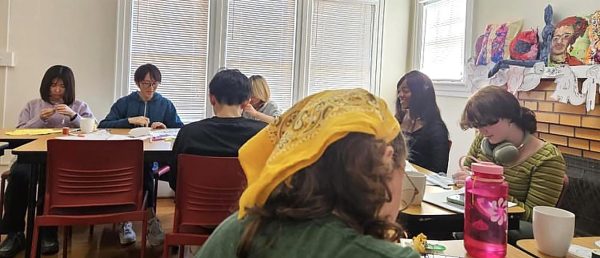 "Through clothing and fabric drives we have collected fabrics that would otherwise go to the landfill," Christen said. "We use these fabrics for our workshops and to create artwork for an upcoming exhibition next semester in our Pence-Chowning Art Gallery. We hope to bring attention to the downfall of 'fast fashion' design, manufacturing and marketing focusing on rapidly producing high volumes of clothing out of low-quality garments."
In addition to her artistic skills, Christen shares her culinary skills with the art club. As a former chef and caterer, she loves to cook for and with her CU family. Dinner and movie nights are a wonderful opportunity for them to cook and eat dinner together and then watch a fun artsy movie.
Paula Puche del Rey, a junior from Spain, is the president of the art club. Puche del Rey has always been inspired by art and it has always been her passion.
"I wanted to make art more present in every student's life, either the creation of it or the appreciation of it," she said. "And the art club is the perfect way of achieving this. The art club is a safe place for everyone, especially for people who want to experiment with their creativity. Everything is valid at the art club. No one will judge you."
Puche Del Rey said recently they went on an art trip to Lexington. They visited museums and art galleries. The trip was funded by the art club by selling art pieces they created in other activities. Also, last Christmas, they did a chocolate sale, in which profits went to the art club. During this workshop, they got to learn the chocolate cooking process and how to manage it.
"It is always good to put on your resume. It is a free way to learn about art," Puche Del Rey said. "It is also a free way to create art because the materials are always provided in our workshops. Also, it is a new way of creating friendships and social bonds."