At just 13 months old, Tristin Crusenberry was given less than a five percent chance of surviving bacterial spinal meningitis. The devastating illness took his hearing, but left him with the dream of playing Major League Baseball.
Standing six-foot-three, weighing 195 pounds, Crusenberry is going into his junior year at Campbellsville University where he plays baseball. Originally from Owensboro, Kentucky, he will be pitching for the Tigers as a redshirt sophomore this spring.
The road to where he is now was no cake walk. While in the hospital with meningitis, the only option to keep him alive was to overdose him with a potion of medications. He became paralyzed from the neck down, and didn't walk again for six months. The fact that he is alive today is nothing shy of a miracle.
Crusenberry said he was certain that God saved his life.
According to Crusenberry, growing up deaf made it difficult for him to blend into society. He recalled people being scared to interact with him, and said middle and high school was the hardest time of his life.
"Because I'm not normal, that made people start taking that advantage to make fun of me and bully me, and make me angry because that's all they wanted," said Crusenberry.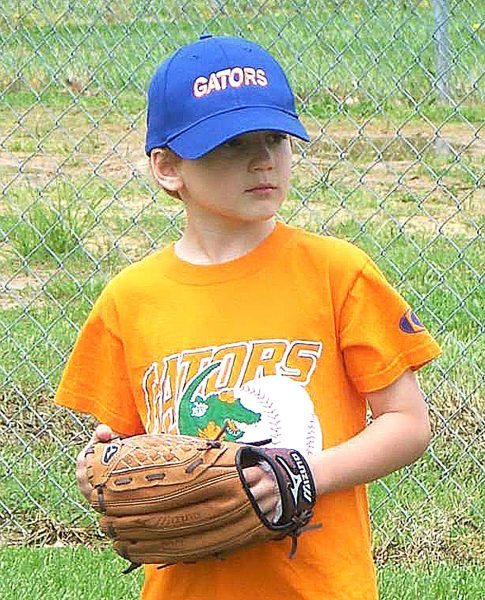 Due to his hearing loss, he was unable to pronounce a single word properly for seven years. However, he was given a cochlear implant at around 18 months old that gifted him partial hearing in his left ear. After 14 years of speech therapy, he now speaks clearly and coherently.
Alongside baseball, Crusenberry played basketball in his first two years at Apollo High School, but wound up quitting so he could focus solely on baseball. During this stint, his basketball teammates tormented him for no reason at all. He said they chewed up Cheez-It crackers and spit them into his brand new duck boots, stole his belongings and even threw basketballs at his head, so hard that it would knock him off the bench.
The most traumatic of all the hardships Crusenberry had to go through was on his high school baseball team. His own teammates strapped exercise bands around his wrists and ankles and held him to the floor while pulling him from all angles.
"I begged them to stop," he said. "They wouldn't listen to me. It was miserable."
Most people might have been filled with resentment and hatred, and may have even quit, but Crusenberry is not most people.
About half the team had earned special hats that were given out by the coaches as recognition for individual players' hard work. After the incident, the coach took all the hats away from the players, but Crusenberry insisted that he give them back.
"When you have an enemy and you still want to fight them … that war is gonna go for a long time," he said. "Instead, you forgive them, show them your love, all this [will] end in a quick moment."
Through all the battles Crusenberry has fought, his trust in God has never failed. According to his father, Tom, if his son is playing baseball, he will always give credit to God.
"He wouldn't be the kid he is today without God," he said.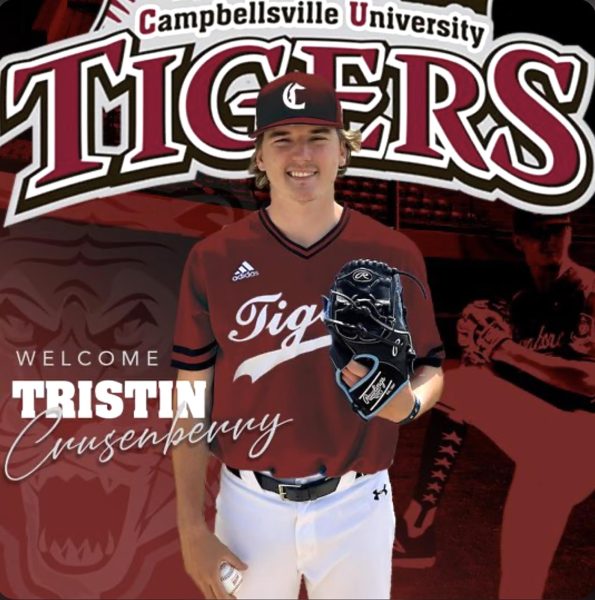 Mr. Crusenberry is the creative arts team leader at Owensboro Christian Church, as well as one of his son's role models, alongside his mother Christy. It was Crusenberry's father who put him in T-ball at the age of five, and that's where he fell in love with the game.
Aside from outside struggles, baseball has also given Crusenberry his fair share of challenges. The loss of his hearing was accompanied by struggles with his balance. He said this is where he realized that life must come with balance, and it motivated him to work on his own.
After high school, Crusenberry committed to play baseball for Olney Central College in Illinois. As a freshman at OCC, Crusenberry only pitched 1.1 innings, and wound up redshirting that year. The summer after, he and his current roommate, teammate and best friend Brock Brubaker took to the local rec fields and began putting in extra work.
"That whole summer changed my life," said Crusenberry, "and that's where good things started happening."
In his next college season, Crusenberry's hard work paid off. He pitched 37 innings for OCC, and earned himself a spot as a starting pitcher. His drive also earned him multiple offers from various schools, and he felt it was best that his next school be Campbellsville University.
"I just feel like God is calling me, and this is the place I need to go to," he said.
The summer after his breakout season, Crusenberry pitched for the Liberal Bee Jays in the National Baseball Classic World Series. His performance there earned him the award for most inspirational player.
Another one of Crusenberry's role models is his grandfather.
"My Pop Pop … he is the hardest worker I've ever seen in my life," he said. "His work ethic is what inspired me, and I use that in my baseball career to be the best player I can be. [He] also had a lot of people doubting him but he would go out there and prove them wrong."
"Prove them wrong" is Crusenberry's favorite motto, and it's stitched into the side of his pitching glove. This statement also shares meaning with late 1800's baseball player William "Dummy" Hoy, who was the first deaf MLB player.
"He played thousands of baseball games in his career and never heard a fan cheer for him," Crusenberry said.
As Crusenberry was beginning his new chapter at Campbellsville, he was uneasy. He said CU is much bigger than OCC, and there are a lot of older players on the baseball team. He came in with the mindset of putting himself out there, and was rewarded with comradery.
"My goal when I first came here, I wanted to earn their respect," he said. "People started talking to me, and they don't think of me any different. They accept me here, and that is [a big] deal to me."
Crusenberry said it has been wonderful at CU, so far. When his Pop Pop was in the hospital just a few weeks into the fall semester, Head Coach Beauford Sanders brought the entire team together in a meeting and held a prayer for Crusenberry and his family.
The only challenge he has faced at CU, so far, is with his anatomy class, but all other aspects of the school and baseball program have been treating him well. Though it has been great, Crusenberry said he expects to face some challenges, because challenges never stop.
"Some challenges can come with benefits as well," said Crusenberry. "The type of person I am right now … is because I have to deal with this hard time in my life. I'm the happiest person right now."
The greatest lesson Crusenberry has learned throughout his life is believing that hard times come from God's love.
"I feel like He wants me to share my testimony … showing people that there is hope," he said. "If you believe in yourself, anything is possible. Just believe in yourself and [know] that God has your back if you put your faith in Him."
Crusenberry said he knows God has been with him his whole life, and he gives Him credit for getting through all the hard times.
"He believes in everyone, and wants to see the good in everyone to a fault," his mother, Christy, said. "You won't have a more genuine person who will treat you any better …. We believe in him and want him to chase his dream."
Chasing his dream is exactly what Crusenberry is doing at CU.