For many athletes, being able to play one sport in the NAIA takes years of training and commitment. But, for Joshua Taube, a senior wrestler from Memphis, Tennessee, taking his talents to the cheerleading team has changed his college experience.
Taube joined the Campbellsville University wrestling team his freshman year. Through years of wrestling, his mind never wavered from his original sport. But, after seeing some of his friends on the sidelines, Taube decided to take another direction. Shortly after the first home football game of the season, Taube sent cheerleading coach April Higdon a text expressing his interest. Without any prior cheerleading experience, after one tryout, Higdon and the cheer team accepted Taube with open arms. Needless to say, Higdon was impressed with his performance.
"Josh is a natural athlete," she said, "From my past experience with wrestlers, they're a great fit."
In conversation with other wrestlers, Taube has expressed just how wrestling has aided in his quick adaptation to cheerleading.
"Wrestling helps cheer because it gives you an understanding of weight distribution," he said. "Just the overall sense of toughness and teamwork allows for a smooth transition into cheerleading."
From a coach's perspective, the qualities of a wrestler make for a great cheerleader, according to Higdon.
"Those boys usually have flexibility and agility, that works well with cheer," she said.
Under preseason wrestling requirements, Taube's day begins with a 9 a.m. workout session, where he and his fellow wrestlers dive headfirst into their training. This rigorous regimen, featuring exercises like pull-ups, Romanian Deadlifts (RDLs), and step-ups, forms the bedrock of their physical and mental preparation for the season.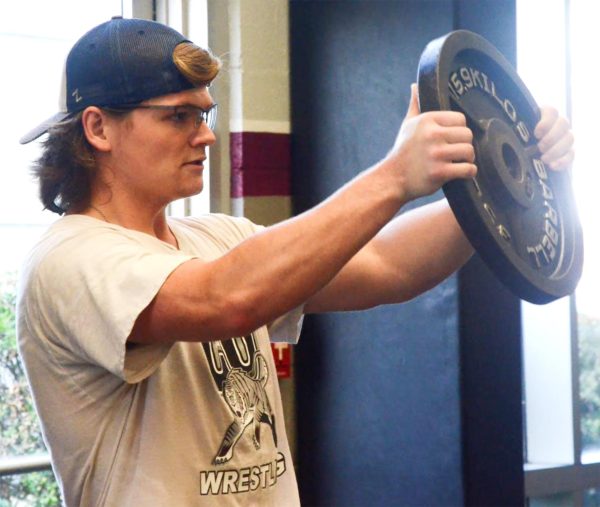 "Wrestling preseason lays the foundation for the rest of the season, both mentally and physically, for these young athletes," CU Wrestling Coach Frank James said. "It's about building that base, preparing our boys with the grind of morning workouts, strength training and conditioning."
The energy and endurance gained from these sessions are vital for Taube to navigate the demands of two distinct sports. For both cheerleading and wrestling, Taube attests to the significance of these morning workouts.
"I think they're necessary for athletes as they get the metabolic system rolling in the morning and they act as a natural energy booster for me that lasts all day," he said.
Even with his smooth transition to a new sport, and the power to balance both competition seasons, Taube's journey is not without its challenges. In a past wrestling season, he faced injury, requiring labrum surgery. The process of returning to wrestling after this setback left him grappling with frustrations regarding his strength and progress. Nevertheless, Taube turned to his faith.
"By the graces of God and the strength He has given me, I've been able to come back stronger than ever in mind, body and spirit," he said. "I know this will be the best year yet."
Taube's prayers must have been answered as he has excelled in his transition to cheerleading. His teammates have noted great improvement for someone so fresh to the field.
"In the last few weeks, he's grown so much," Laci Rudd, Taube's stunting partner, said. "He's truly doing a great job."
Taube has exceeded the expectations of Coach Higdon with his dedication and drive to learn the stunts and help his teammates be great.
"He has learned tons of new skills in a small amount of time," she said. "He is doing phenomenal."
Evenings at CU are demanding, and for Taube, the responsibilities extend beyond athletics. At 10 p.m., he takes on the role of a resident assistant, overseeing lobby duties. His residents place their trust in him as a dependable source of support.
"Josh is a civil guy. He's easy to get along with," said Kyle Duvall. "Whenever I need him, whether I lost my key or I have a question, he is always there for me."
In the challenging world of college athletics, Taube's unwavering dedication as a two-sport athlete stands as a testament to his exceptional work ethic and determination.
"Managing my time around multiple sports is a challenge and it's something I have to stay on top of," Taube said. "I would say keeping a positive attitude is the biggest help for keeping high
energy. It isn't always easy to be positive, especially on bad days, but keeping my chin up and always looking to strive for better is what keeps me going."